TBC Foundation, is an extended arm of The TBC Group, which works on the not-for-profit initiatives, partnerships and collaborations.
Under TBC Foundation, we undertake numerous initiatives towards the greater good working aggressively on causes that we truly believe in. With the marketing and network expertise of TBC Consulting, we extend support to organisations and initiatives in many ways in terms of marketing, knowledge, network, expansion and execution. Along with this, we also run our own initiatives in collaboration with other organisations and people, who are genuinely working towards bringing about a difference.
This is one of our most recent initiatives, where we are working on addressing the issue of Mental Health among Entrepreneurs and Startup Founders, by providing them professional help free of cost.
Startup Founders and Entrepreneurs can book their slot by signing up on this form (anonymous option also available) – https://forms.gle/hiwQBFc9uYnYcFqMA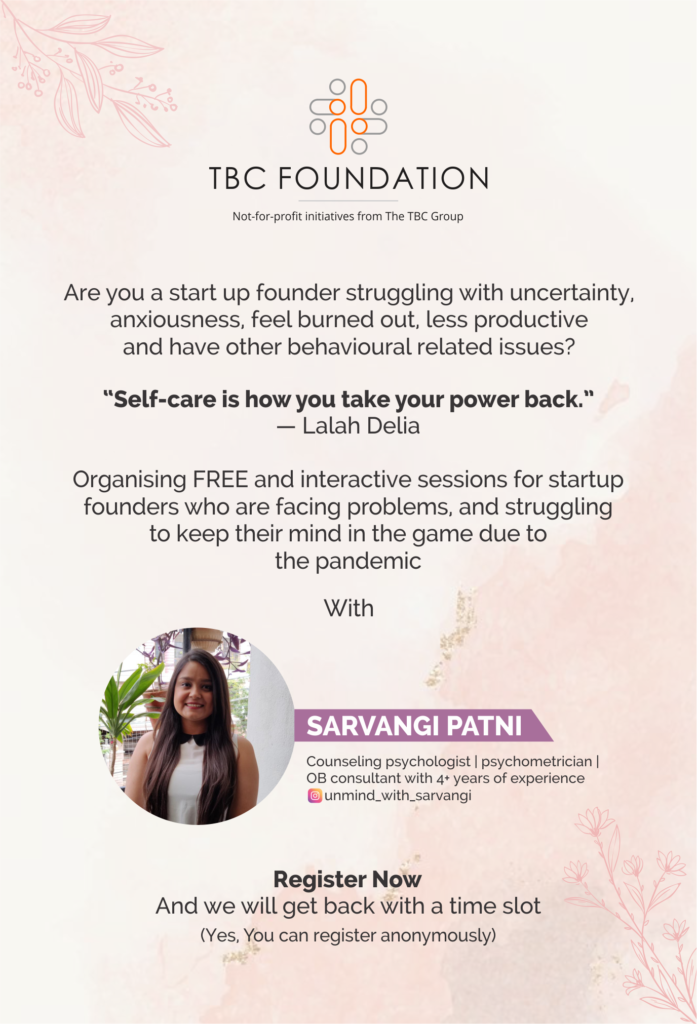 Apart from this, our CEO personally announced the following steps that we have taken as an organisation, during COVID –
A Donation of over 150 Masks through TurmsWear, a Bangalore based startup
A Donation made to Aarti for Girls NGO working towards Girl Education and Women Empowerment, as well as COVID 19 Victim Relief
A Donation made towards providing Face Shields and PPE Kits to our Health workers, Police officials, and Sanitation workers, through Enactus IIT Delhi, a registered Trust run by IIT Delhi Alumnus, as a part of their initiative #TogetherWeCare