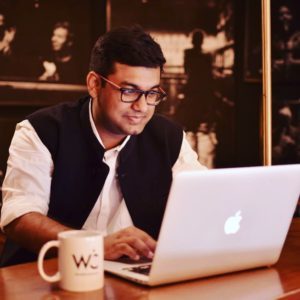 Pawas Jain is the Founder and Creator of TBC Consulting, now a part of The TBC Group. A CA by education and creator by passion & profession, Pawas embarked on this journey of Marketing & Consulting to create work that will leave a strong impression on the audience's mind.
Driven by enthusiasm and passion to create remarkable work, Pawas believes in teamwork and growth of everyone. He also brings along with him an experience of 9 years in the domain of Startups, Marketing, Business Expansion and Finance
He has created several successful brands over last few years, thus rebranding the company as The TBC Group, which owns Indian Chai Company, LivUp Cloud Kitchens and Backpacker Hostels, TechSamvad Media Network and several other business verticals. 
Pawas Jain has recently got his debut novel published by one of the leading publishers of the country, LeadStart. The book was launched on 24 December 2020 by Manish Maheshwari (MD of Twitter India), Arunabh Kumar (Founder of TVF), Shweta Shalini (Entrepreneur and Spokesperson BJP) and Swarup Nanda (CEO of Leadstart)
The First Time, is a dark tell all tale of the startup ecosystem and follows the journey of a first generation entrepreneur, accounting his struggles, compromises and sacrifices.
The Book is Available Here – https://www.amazon.in/First-Time-Pawas-Jain/dp/9390463920/
To Know More About Pawas Jain – https://www.leadstartcorp.com/authors/pawas-jain/